New public realm improvement and cycle lane scheme for the Dublin Road
Plans for a new scheme for public realm improvements and cycle lanes on the R147 Dublin Road have been published. The R147 Martha's Bridge to Circular Road Scheme runs from the R147/Circular Road junction to just past Martha's Bridge, at Swan Lane.
The scheme will see the creation of not only segregated cycle lanes, but also the provision of new footpaths, junction upgrades, controlled crossing points, drainage works, and landscaping such as trees and shrubbery etc. The scheme incorporates routes Na1 of the the Navan Cycle Network, which is part of the GDA Cycle Network Plan.
Navan Cycling Initiative (NCI) have long being calling for cycle lanes on the Dublin Road. In November 2020, Cllr. Yemi Adenuga, working closely with NCI, put forward a motion to Meath County Council 'to provide segregated cycling facilities along R147 / Dublin Road'. The motion was passed, and now, almost two years later, we are pleased to finally see the plans for this new scheme. The Dublin Road is a vital section of the Navan Cycle Network, and will link the areas of Johnstown, Balreask Woods, Kennastown, Kilcarn Court and the Lime Kiln to the town centre. It will also improve cycle access to Ard Rí CNS, Navan Rugby Club, Navan Tennis Club and the Ardboyne Hotel.
While the scheme will be done under Part 8 publication and go through a public consultation, NCI have also raised the question of undertaking such schemes under the Section 38 process, which can be delivered much quicker. We recently met with the Meath County Council Active Travel Team and queried if this scheme could be carried out under Section 38 (the proposed works would be carried out within existing road boundaries), but it would appear there is a reluctance to use this method. The Part 8 process can take over four years to complete, but safe cycling infrastructure is required on this road as a matter of urgency. It is imperative the scheme is not bogged down by the usual statutory process, as what is happening with another active scheme in the town, and is delivered as fast as possible.
Benefits of the scheme
Encourage more active travel
Make it safer for children to walk and cycle to school
Make it safer for people commuting to work
Reduce car dependancy and traffic
Increase road safety and promote slower speeds
Vastly improve the public realm of the main road into Navan
Provide accessibility and social inclusion for all
Improvements for mobility / visually impaired users
Improve the environment and tackle climate change
Improve the Academy Square/Fifth Province green (new paths, signage, seating, tree planting, wildflower meadow)
Lay the foundations of the continuation of the Boyne Greenway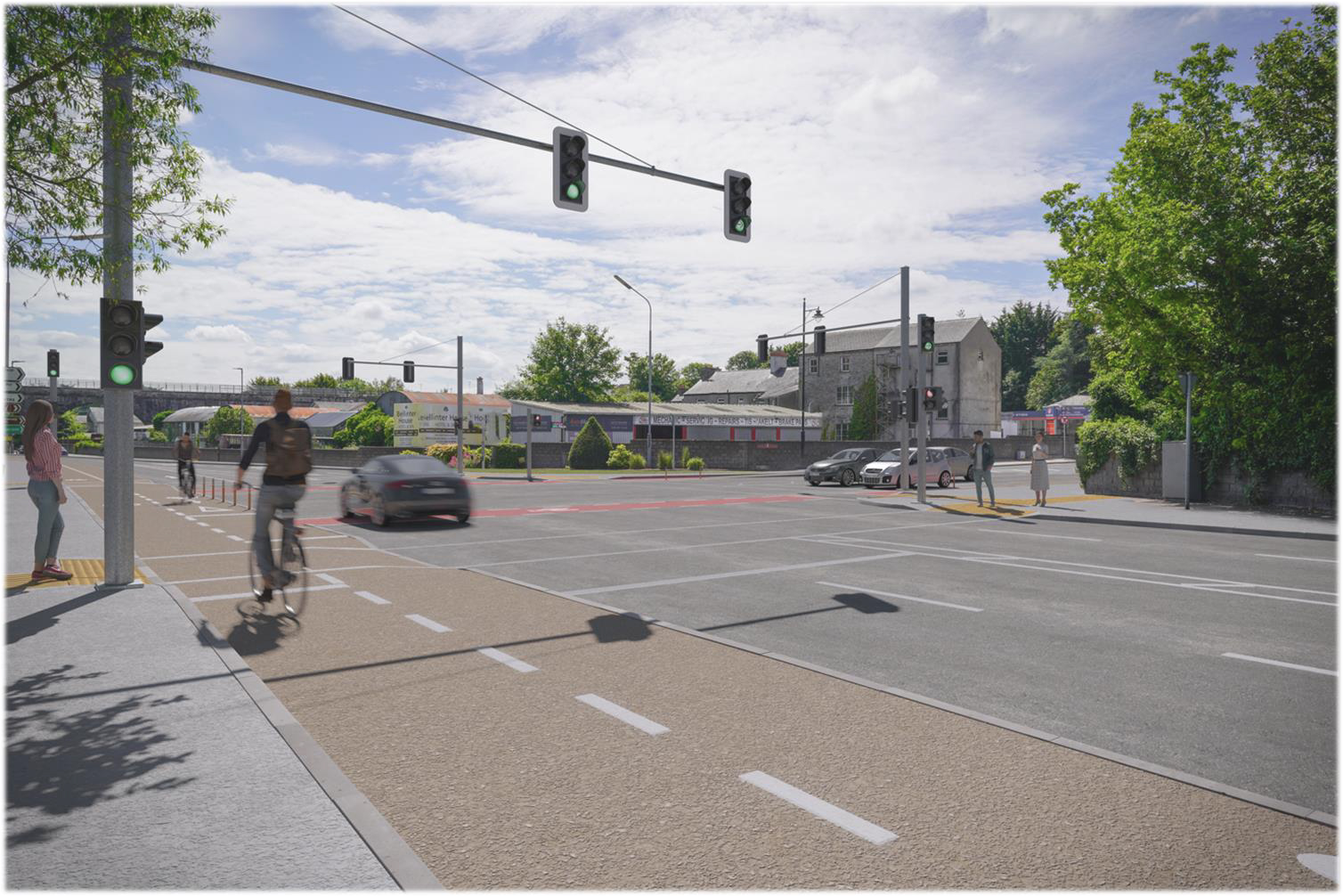 The full plans with visuals are on public display from Tuesday 6 September, and a public consolation on the plans will run until Thursday 20 October, 2022.